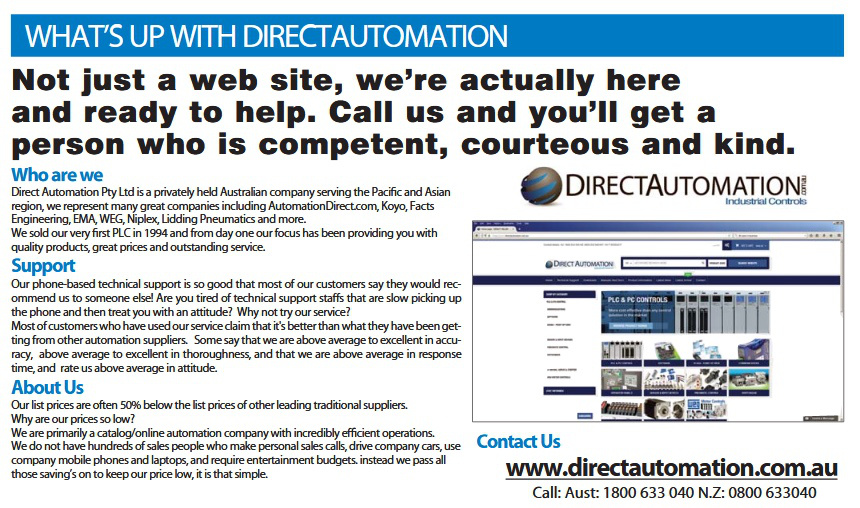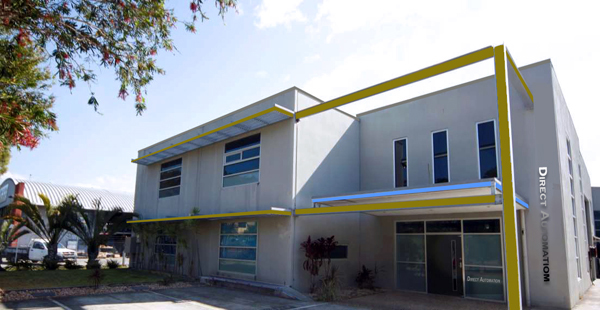 ABN 86 641 073 458
History and Culture
Direct Automation Pty Ltd is a direct seller of automation and industrial control products such as PLCs, sensors, pushbuttons, AC drives/motors, enclosures, operator interfaces, and much more. Through our free catalogue and this full-featured website, we are able to offer the most practical industrial automation products at the industry's lowest prices.
We follow that up with a super-efficient organisation that ships in-stock products the day you order them and then provides technical support that has been rated #1 in the industry.
That's why we created a company from the bottom up to offer the most practical automation products, at the industry's best prices, shipped the same day to most areas of Australia. Many of our customers have switched to us because of our prices, products, service and helpful attitude. So, browse our website, we guarantee you will find it interesting!
Direct Automation Pty Ltd is a privately held Australian company serving the Asia Pacific region, we represent many great companies including AutomationDirect.com, Koyo, Facts Engineering, WEG, Kepware Technologies, EMA, Danfoss, Niplex, Pneumatics and more.
Our company history goes back over 50 years in the industrial controls market with such brands as Texas Instruments, Koyo Electronics, Facts Engineering to name a few. Direct Automation concentrates on the small to medium PLC market in Australia. We've made the commitment to offer the best products at the best value we could deliver so you have a better choice.
Five Reasons to try Direct Automation
1. We offer thousands of quality automation products designed and built by some of the best manufacturers in the industry. Our name brand products come from companies such as Automationdirect.com, WEG, EMA, Koyo, Kepware, Lidding Pneumatics, AZ Pneumatica and Ningbo Pneumatics.
2. Our list prices are often 50% below the list prices of other leading traditional suppliers. Why are our prices low? We are primarily a catalogue/online automation company with incredibly efficient operations. We do not have hundreds of salespeople who make personal sales calls, drive company cars, use company mobile phones and laptops, and require entertainment budgets. Instead, we send you a catalogue or ask you to try our online store, both of which are packed with super low everyday prices. It's that simple.
3. Our phone-based technical support is so good that 99% of our customers say they would recommend us to someone else! Are you tired of technical support staffs that are slow picking up the phone and then treat you with an attitude? Why not try our service? About 91% of customers who have used our service claim that it's better than what they have been getting from other automation suppliers. 93% say we are above average to excellent in accuracy, 92% say we are above average to excellent in thoroughness, 76% say we are above average in response time, and 97% rate us above average in attitude.
4. Order it your way - by fax, by phone or online, with P.O.s or with credit cards and it's shipped the same day. Call in and get some of the most courteous and helpful salespeople in any industry! In fact, over 93% of new customers responding to our surveys say that our phone manners were above average when compared to their other vendors. Over 93% said our sales team was above average in answering questions related to their order when compared to other vendors. Is your current vendor that good?
5. We ship it super-fast and accurately. We have integrated an enterprise-wide electronic order processing system and well stocked warehouses. This system allows us to take your order as late as 3 p.m. EST and ship it the same day*.
*Enclosures and heavy items allow up to 2/3 days. Orders for same-day shipping, with credit card or pre-approved credit, must be received by 3 p.m. EST.