MILD STEEL IP65 ENCLOSURES - GREY

We sell the best steel boxes in the world. They are made as a fully welded construction with grounded and smooth corners, dust and waterproof, to comply IP 65 standard.
Mild steel boxes have a very high finish and are very solid. They will represent and reflect the quality of the machinery of the OEM in a convincing manner.
The boxes can be fitted out with a lot of different inserts so you can custom make your enclosure to any need.
Key Features
Vast range of sizes

Improved design with double lip to ensure higher strength

Textured powder coated finish

IP 65 Test Certified.

Alu zinc mounting plates

Concealed hinges

120 degree door opening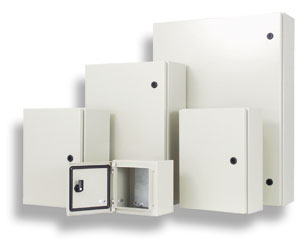 Standard Sizes of Mild Steel Box
| Part No. | Full Description | Brand | Locks | No. of Gland Plates | Weight (kg) | Dimensions W x H x D (mm) |
| --- | --- | --- | --- | --- | --- | --- |
| BM20215G | ENCLOSURE MILD STEEL GREY RAL7032 200W X 200H X 150D IP65 | ELSTEEL | 1 | 1 | 2.91 | 200 x 200 x 150 |
| BM20315G | ENCLOSURE MILD STEEL GREY RAL7032 200W X 300H X 150D IP65 55522, ELS53010 | ELSTEEL | 1 | 1 | 3.97 | 200 x 300 x 150 |
| BM25315G | ENCLOSURE MILD STEEL GREY RAL7032 250W X 300H X 150D IP65 55552, ELS53020 | ELSTEEL | 1 | 1 | 4.92 | 250 x 300 x 150 |
| BM30315G | ENCLOSURE MILD STEEL GREY RAL7032 300W X 300H X 150D IP65 55582, ELS53030 | ELSTEEL | 1 | 1 | 5.63 | 300 x 300 x 150 |
| BM30320G | ENCLOSURE MILD STEEL GREY RAL7032 300W X 300H X 200D IP65 55602, ELS53050 | ELSTEEL | 1 | 1 | 6.24 | 300 x 300 x 200 |
| BM30415G | ENCLOSURE MILD STEEL GREY RAL7032 300W X 400H X 150D IP65 55612, ELS53060 | ELSTEEL | 2 | 1 | 7.06 | 300 x 400 x 150 |
| BM30420G | ENCLOSURE MILD STEEL GREY RAL7032 300W X 400H X 200D IP65 55632, ELS53080 | ELSTEEL | 2 | 1 | 7.77 | 300 x 400 x 200 |
| BM40315G | ENCLOSURE MILD STEEL GREY RAL7032 400W X 300H X 150D IP65 55682, ELS53100 | ELSTEEL | 1 | 1 | 7.06 | 400 x 400 x 150 |
| BM40320G | ENCLOSURE MILD STEEL GREY RAL7032 400W X 300H X 200D IP65 55702, ELS53120 | ELSTEEL | 1 | 1 | 7.77 | 400 x 300 x 200 |
| BM40415G | ENCLOSURE MILD STEEL GREY RAL7032 400W X 400H X 150D IP65 55712, ELS53130 | ELSTEEL | 2 | 1 | 8.86 | 400 x 400 x 150 |
| Part No. | Full Description | Brand | Locks | No. of Gland Plates | Weight (kg) | Dimensions W x H x D (mm) |
| --- | --- | --- | --- | --- | --- | --- |
| BM40420G | ENCLOSURE MILD STEEL GREY RAL7032 400W X 400H X 200D IP65 55732, ELS53150 | ELSTEEL | 2 | 1 | 9.67 | 400 x 400 x 200 |
| BM40515G | ENCLOSURE MILD STEEL GREY RAL7032 400W X 500H X 150D IP65 55742, ELS53160 | ELSTEEL | 2 | 1 | 10.66 | 400 x 500 x 150 |
| BM40520G | ENCLOSURE MILD STEEL GREY RAL7032 400W X 500H X 200D IP65 55762, ELS53180 | ELSTEEL | 2 | 1 | 11.57 | 400 x 500 x 200 |
| BM40525G | ENCLOSURE MILD STEEL GREY RAL7032 400W X 500H X 250D IP65 55772, ELS53190 | ELSTEEL | 2 | 1 | 13.77 | 400 x 500 x 250 |
| BM40620G | ENCLOSURE MILD STEEL GREY RAL7032 400W X 600H X 200D IP65 55812, ELS53200 | ELSTEEL | 2 | 1 | 15.87 | 400 x 600 x 200 |
| BM40625G | ENCLOSURE V2 GREY MILD STEEL 400W X 600H X 250D MM IP65 55822, WAS ELS53210 | ELSTEEL | 2 | 2 | 17.13 | 400 x 600 x 250 |
| BM40630G | ENCLOSURE MILD STEEL GREY RAL7032 400W X 600H X 300D IP65 55832, ELS53930 | ELSTEEL | 2 | 1 | 17.48 | 400 x 600 x 300 |
| BM50520G | ENCLOSURE MILD STEEL GREY RAL7032 500W X 500H X 200D IP65 56002, ELS54110 | ELSTEEL | 2 | 1 | 18.52 | 500 x 500 x 200 |
| BM50620G | ENCLOSURE MILD STEEL GREY RAL7032 500W X 600H X 200D IP65 56042, ELS53230 | ELSTEEL | 2 | 1 | 18.94 | 500 x 600 x 200 |
| BM50720G | ENCLOSURE MILD STEEL GREY RAL7032 500W X 700H X 200D IP65 56062, ELS53240 | ELSTEEL | 2 | 1 | 21.59 | 500 x 700 x 200 |
| Part No. | Full Description | Brand | Locks | No. of Gland Plates | Weight (kg) | Dimensions W x H x D (mm) |
| --- | --- | --- | --- | --- | --- | --- |
| BM50725G | ENCLOSURE MILD STEEL GREY RAL7032 500W X 700H X 250D IP65 56072, ELS53250 | ELSTEEL | 2 | 1 | 23.11 | 500 x 700 x 250 |
| BM60420G | ENCLOSURE MILD STEEL GREY RAL7032 600W X 400H X 200D IP65 56152, ELS53260 | ELSTEEL | 2 | 2 | 16.18 | 600 x 400 x 200 |
| BM60430G | ENCLOSURE MILD STEEL GREY RAL7032 600W X 400H X 300D IP65 56172, ELS53270 | ELSTEEL | 2 | 2 | 18.71 | 600 x 400 x 300 |
| BM60620G | ENCLOSURE MILD STEEL GREY RAL7032 600W X 600H X 200D IP65 56192, ELS53290 | ELSTEEL | 2 | 2 | 22.32 | 600 x 600 x 200 |
| BM60630G | ENCLOSURE MILD STEEL GREY RAL7032 600W X 600H X 300D IP65 56212 , ELS53300 | ELSTEEL | 2 | 2 | 25.37 | 600 x 600 x 300 |
| BM60720G | ENCLOSURE MILD STEEL GREY RAL7032 600W X 700H X 200D IP65 56222, ELS53310 | ELSTEEL | 2 | 2 | 25.49 | 600 x 700 x 200 |
| BM60820G | ENCLOSURE MILD STEEL GREY RAL7032 600W X 800H X 200D IP65 56232, ELS53320 | ELSTEEL | 3 | 2 | 28.57 | 600 x 800 x 200 |
| BM60825G | ENCLOSURE MILD STEEL GREY RAL7032 600W X 800H X 250D IP65 56242, ELS53330 | ELSTEEL | 3 | 2 | 30.35 | 600 x 800 x 250 |
| BM60830G | ENCLOSURE MILD STEEL GREY RAL7032 600W X 800H X 300D IP65 56252, ELS53340 | ELSTEEL | 3 | 2 | 32.13 | 600 x 800 x 300 |
| BM601020G | ENCLOSURE MILD STEEL GREY RAL7032 600W X 1000H X 200D IP65 56262, ELS53350 | ELSTEEL | 3 | 2 | 34.75 | 600 x 1000 x 200 |
| Part No. | Full Description | Brand | Locks | No. of Gland Plates | Weight (kg) | Dimensions W x H x D (mm) |
| --- | --- | --- | --- | --- | --- | --- |
| BM601220G | ENCLOSURE MILD STEEL GREY RAL7032 600W X 1200H X 200D IP65 56292, ELS53370 | ELSTEEL | 3 | 2 | 40.92 | 600 x 1200 x 200 |
| BM601230G | ENCLOSURE MILD STEEL GREY RAL7032 600W X 1200H X 300D IP65 56312 | ELSTEEL | 3 | 2 | 42.52 | 600 x 1200 x 300 |
| BM80830G | ENCLOSURE MILD STEEL GREY RAL7032 800W X 800H X 300D IP65 56392, ELS53380 | ELSTEEL | 3 | 2 | 46.20 | 800 x 800 x 300 |
| BM801020G | ENCLOSURE MILD STEEL GREY RAL7032 800W X 1000H X 200D IP65 56402, ELS53390 | ELSTEEL | 3 | 2 | 44.45 | 800 x 1000 x 200 |
| BM801025G | ENCLOSURE MILD STEEL GREY RAL7032 800W X 1000H X 250D IP65 56412, ELS53400 | ELSTEEL | 3 | 2 | 46.73 | 800 x 1000 x 250 |
| BM801030G | ENCLOSURE MILD STEEL GREY RAL7032 800W X 1000H X 300D IP65 56432, ELS53410 | ELSTEEL | 3 | 2 | 49.02 | 800 x 1000 x 300 |
| BM801225G | ENCLOSURE MILD STEEL GREY RAL7032 800W X 1200H X 250D IP65 56452 | ELSTEEL | 3 | 2 | 48.70 | 800 x 1200 x 250 |
| BM801230G | ENCLOSURE MILD STEEL GREY RAL7032 800W X 1200H X 300D IP65 56462 | ELSTEEL | 3 | 2 | 51.08 | 800 x 1200 x 300 |
| BM101030G | ENCLOSURE MILD STEEL GREY RAL7032 1000W X 1000H X 300D IP65 56542 | ELSTEEL | 3 | 2 | 53.30 | 1000 x 1000 x 300 |
| BM101230G | ENCLOSURE V2 GREY MILD STEEL 1000W X 1200H X 300D MM IP65 56562 | ELSTEEL | 3 | 2 | 61.90 | 1000 x 1200 x 300 |