Home

/

Process/Temperature Controllers and Accessories
CLICK PLUS PLC Selected as a Finalist in the 2022 Control Engineering Magazine Engineers' Choice Awards in the "Controls Systems: PLCs, PACs" category.
Download catalogue

Process/Temperature Controllers and Accessories
SOLO Digital Temperature Controllers/ PID Temperature Controllers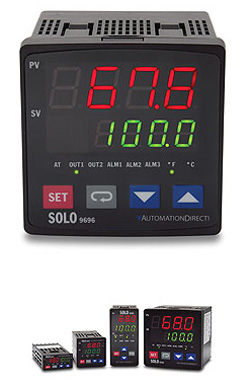 Direct Automation's 24 VDC powered SOLO process/temperature controllers are powerful process tools offering flexibility and simplicity. Available in four standard DIN sizes, these single-loop units are equipped with a dual four-digit, seven-segment display, and offer dual output control, making them ideal for managing heating and cooling processes. The built-in autotune function with PID control feature allows for fast and easy startups. Flexible control modes include PID, Ramp/Soak, ON/OFF and Manual operation.

AutomationDirect's SOLOTM digital temperature controller is a single loop dual output temperature limit controller that can control both heating and cooling simultaneously.
Four types of control modes: PID, ON/OFF, Ramp / Soak and Manual.


Available outputs include relay, voltage pulse, current, and linear voltage (depending upon controller model)


Up to three alarm outputs available (The SL4824 series supports only one)


Seventeen alarm types available in the initial setting mode


Accepts thermocouple, RTD, or analog inputs


Built in RS-485 interface using Modbus slave (ASCII or RTU) communication protocol


Features
New! ... 24 VDC input power versions now available
100 to 240 VAC 50 / 60 Hz or 24 VDC input power
1/32 DIN, 1/16 DIN, 1/8 DIN, or 1/4 DIN panel size
Two 4 character 7-segment LED displays: Red for Process value (PV) and Green for Set Point (SV), °F or °C selectable
Auto Tuning (AT) function with PID control
Accepts eleven types of thermocouples, two types of Pt100 RTD temperature sensors, and DC mA, mV, and Volt signals
Two optional Event Inputs available in 1/8 DIN and 1/4 DIN size
Four possible control outputs; Relay, Voltage Pulse, Current, and Voltage (depending on model)
Up to three alarm groups, each with seventeen available alarm types
64 levels of Ramp / Soak control
IP65 (NEMA 4) front panel
0°C to 50 °C operating temperature range
UL, CUL, and CE agency approvals
SOLO Digital Temperature Controllers Overview

Range
1/32 DIN Size (SL4824 Series)
1/16 DIN Size (SL4848 Series
)
1/8 DIN Size (SL4896 Series)
1/4 DIN Size (SL9696 Series)
| Product Code | Product Name | QTY | Price ($AUD) | Action |
| --- | --- | --- | --- | --- |
Apply for an account with Direct Automation
Access online training, resources and more with Direct Automation
Browse through the list of professional system integrators