HMI - Operator Panels

Basic to advanced panel based visualisation of critical data. Connectivity, Reliability, Compatibility with an Unbeatable Price-Performance Value. The HMI (Human Machine Interface) provides a textual or graphical view of system conditions and operations, vital information absent with simple pushbutton panels or switch banks. HMIs offer robust monitoring, control, status reporting and many other functions. Touch panels (including a headless version), message displays and text panels are available. View our range of C-more and ViewMarq display systems.
C-more® Operator Interface HMI Touch Panels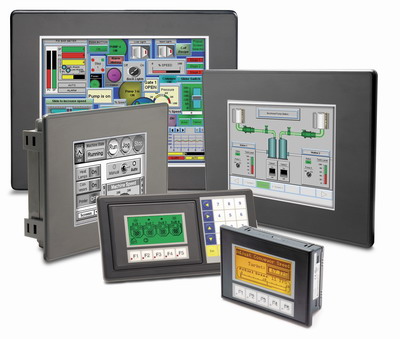 C-more® Touch Panels
C-more touch panels provide a graphical interface designed to interchange and display graphics, animation and data to and from a PLC by merely touching the screen. You can virtually replace every pushbutton, switch, meter, and other peripheral device with one C-more touch panel.

C-more Programming Software with its graphical environment and reduced object programming steps, makes developing a project for the C-more touch panels a very quick and simple task.

C-more touch screen panels are available in either grayscale (15 shades of gray) or full color. Grayscale STN panels are available with a 6" display. TFT color units are available in 6", 8", 10", 12" and 15" display versions.

C-more® Micro-Graphic Text and Touch Panels
HMI touch panels at a text panel price!
C-more Micro-Graphic panels are a new generation of graphic display and text display panels based on the very successful C-more touch panel design. The C-more Micro-Graphic is a low cost panel offering a 3 inch or 6 inch screen to display graphics as well as text. Touch screen and non-touch screen panel versions are available. Free, Windows-based, easy to use software with built-in simulator.

C-more® Headless, Remote HMI
Display your way- the C-more Headless HMI lets you decide.
C-more Headless HMI (EA9-RHMI) gives you all the functionality of a C-more touch panel without the display size limitation. This HDMI-enabled device works with most HDMI display devices of any size to display real-time operational data or messages. The integrated USB ports allows support for industrial touch screen monitor displays that support USB interface or USB mouse operations. Now you can see your data from almost anywhere.



ViewMarq™ Industrial LED Message Displays

ViewMarq™ Industrial LED Message Displays
Industrial LED messaging made easy. ViewMarq tri-color LED (red, green, amber) message displays support scrolling (left, right, up, down) messages as well as blinking text, and are available in 1, 2 and 4-line displays with 12 or 24 characters.
Full Brochure Downloads
C-more Touch Panel including Remote HMI

C-more Micro Touch Panels

C-more Software

ViewMarq Message Displays