HMI - Operator Panels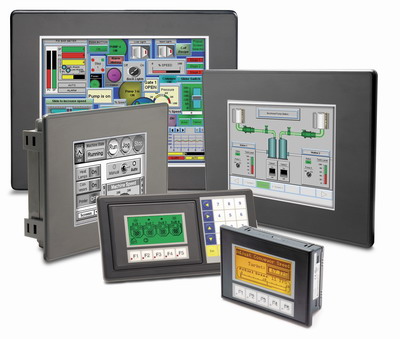 C-more touch panels provide a graphical interface designed to interchange and display graphics, animation and data to and from a PLC by merely touching the screen. You can virtually replace every pushbutton, switch, meter, and other peripheral device with one C-more touch panel.

C-more Programming Software with its graphical environment and reduced object programming steps, makes developing a project for the C-more touch panels a very quick and simple task.

C-more touch screen panels are available in either grayscale (15 shades of gray) or full color. Grayscale STN panels are available with a 6" display. TFT color units are available in 6", 8", 10", 12" and 15" display versions.

C-more® Micro-Graphic Text and Touch Panels
HMI touch panels at a text panel price!
C-more Micro-Graphic panels are a new generation of graphic display and text display panels based on the very successful C-more touch panel design. The C-more Micro-Graphic is a low cost panel offering a 3 inch or 6 inch screen to display graphics as well as text. Touch screen and non-touch screen panel versions are available.

DirectView 1000
The DirectView DV-1000 is an incredibly small, low-cost operator interface panel. The DV-1000 can be directly connected to DirectLOGIC DL05, DL06, DL105, DL205, D3-350 or DL405 CPUs. The DV-1000 is a "ladder logic dependent" terminal which relies entirely on PLC ladder logic to perform its functions. The DV-1000 does not require any configuration software. Instead, setup is performed through special reserved memory locations inside of the CPU.

ViewMarq™ Industrial LED Message Displays
Industrial LED messaging made easy. ViewMarq tri-color LED (red, green, amber) message displays support scrolling (left, right, up, down) messages as well as blinking text, and are available in 1, 2 and 4-line displays with 12 or 24 characters.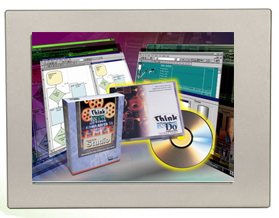 Industrial Computer
The NIP-15TS TM series of industrial flat panel LCD computer offers outstanding quality and value in a ruggedized package and at low competitive prices. Compact size and shallow mounting depth makes NIP-15TS flat panel computer ideal for installation in harsh environments and for many factory automation applications
C-more® Operator Interface HMI Touch Panels