Click PLC

The CLICK family of controllers offer low-cost, easy-to-use micro PLCs, available in stackable brick or micromodular styles, providing simple control. CLICK PLUS PLCs build upon the original CLICK series with advanced options such as data logging, Wi-Fi connectability, MQTT communication, motion control and increased security measures. Free programming software supports all CLICK PLCs.

CLICK Series Programmable Controller
Features
Memory: 8k
Programming language: Ladder logic
Dimensions: approx 2"W x 3"H x 3"D (55mmW, 85mmH, 75mmD)
Maximum I/O Capacity: 142
Communications: 2 or 3 ports depending on model (Ethernet & serial comms available)


Simple instructions set with 21 instructions

Real Time Clock/calander and optional battery back-up in standard, analogue and Ethernet PLCs

High-speed input support on Ethernet CPUs

Removable terminal blocks

31 stand-alone, DIN-rial mount DC powered PLC combinations

26 stackable, I/O optional modules

Program and documentation stored in PLC

Supports a maximum of 8 I/O modules up to 142 discrete or 54 analogue I/O points total

RS-232 port on all PLCs

RS-485 and Ethernet port on select PLCs

Support for EtherNet/IP devices

All models support Modbus RTU, Ethernet models support Modbus TCP

Choose I/O wiring needs from spring clamp, screw terminal or the popular ZipLink wiring solution
Free and intuitive 'CLICK' Software, including free upgrades

Documentation

CLICK User Manual

Complete CLICK PLC Overview

CLICK PLC Cables & Accessories Overview
Learn More

Watch CLICK PLC Videos
The CLICK PLC family of components offers practical PLC features in a compact yet expandable design, with super easy-to-use FREE programming software.
Easy Installation
The CLICK PLC control system does not require a mounting base, which saves on space.

The CLICK CPU and I/O modules are connected together via an expansion port on the sides of the modules.
Expandable I/O
A powered CLICK CPU module by itself can be used as a complete PLC control system with eight input points and six output points built-in,

Or, the PLC system can be expanded with the addition of up to eight I/O modules.

A variety of I/O modules are available for flexible and optimal system configuration. The I/O numbering system is decimal.
Built-in Communications
The CLICK CPUs have two built-in RS-232 communications ports.

Can be configured for either MODBUS RTU or ASCII networks.
Analog Input/ Analog Output
Analog CPU modules have built-in analog I/O (2-channel analog inputs and 2-channel analog outputs).

Each channel can be separately set for voltage (0 to 5 VDC) or current (4 to 20 mA).
Calendar / Clock & Battery Backup
Analog CPU modules include the real time clock and battery backup for the internal SRAM.

Battery allows data to be stored for 5 years.
FREE PLC Programming Software
With 21 Easy to Use Instructions

Provides ease of use and quick learning.

The CLICK PLC supports a very simple, but useful instruction set.

The 21 easy to use instructions can cover most applications that are suitable for this class of PLC.
Download the FREE CLICK PLC Programming Software Now!
Click PLC Programming Cables

If your PC has a USB port, use cable EA-MG-PGM-CBL to connect to the CLICK CPU module port. If your PC has a 9-pin serial communications port, use programming cable D2-DSCBL.

EA-MG-PGM-CBL - PC to PLC Programming Cable Assembly for CLICK PLCs (also used for C-more Micro-Graphic Panels)

D2-DSCBL - 9-pin serial programming cable for CLICK PLCs

USB-RS232 - USB to Serial Adapter Cable connects serial devices to PC applications via a USB port

CLICK PLC Cables & Accessories Overview
CPU Modules
There are thirty-one CLICK CPU modules available in five classes, each with different combinations of built-in I/O types. The CLICK CPU modules all offer the same instruction set, and support all the available optional I/O modules. With the built-in I/O a CPU can be used as a ready-to-go PLC control system without any additional I/O modules.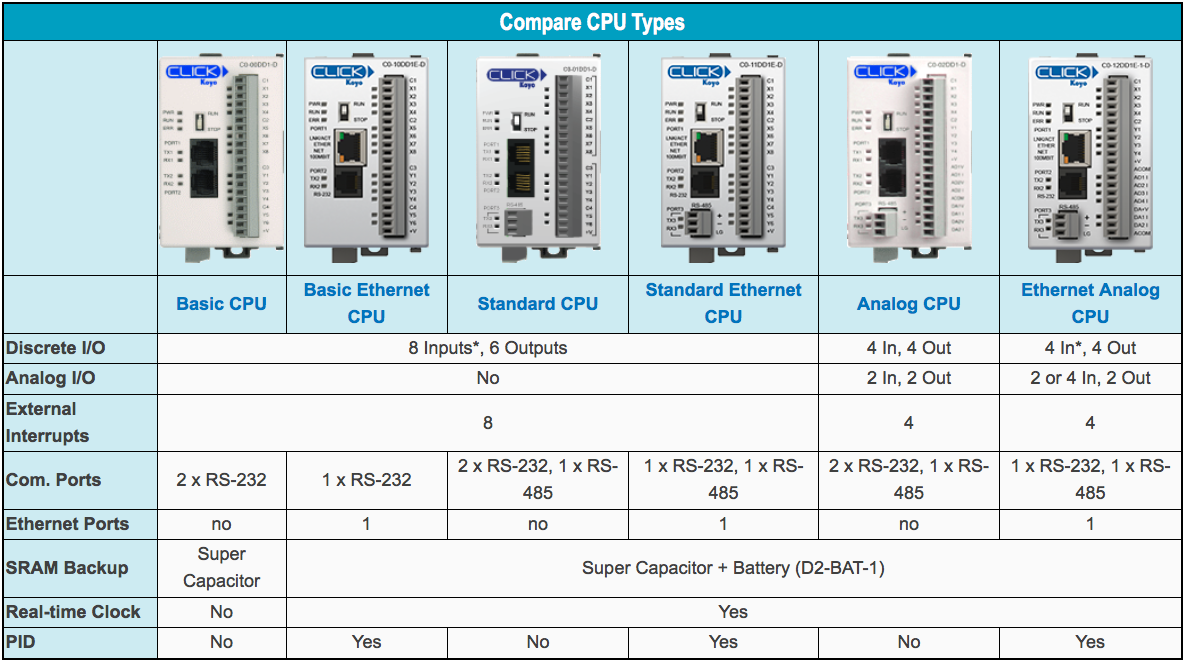 *Ethernet CPUs support high-speed DC inputs and PID control