BRX Micro PLCs new from Direct Automation
The BRX platform is a very versatile modular Micro PLC system that combines powerful features in a compact, standalone footprint. The BRX platform is designed to be used as a standalone controller or can be expanded using a wide variety of expansion modules that easily snap onto the side of any BRX Micro PLC Unit (MPU) creating a sturdy and rugged PLC platform. Four Micro PLC Unit (MPU) form factor combinations are available (3 with built-in I/O) to provide strong system designs that fit application requirements exactly, keeping system costs to a minimum.

BRX Micro PLC Features
Data Logging Built In
Motion Control Included
On-board Serial/Ethernet Communication
Integrated Discrete, High-speed and Analog I/O
Interchangeable (and Hot-swappable) Communication Ports
Free Programming Software with Simulator
Free Technical Support
User manual is a free download
BRX PLCs are DoMore Driven
Here are 10 ways it's better with BRX PLCs!
1. Value that's hard to believe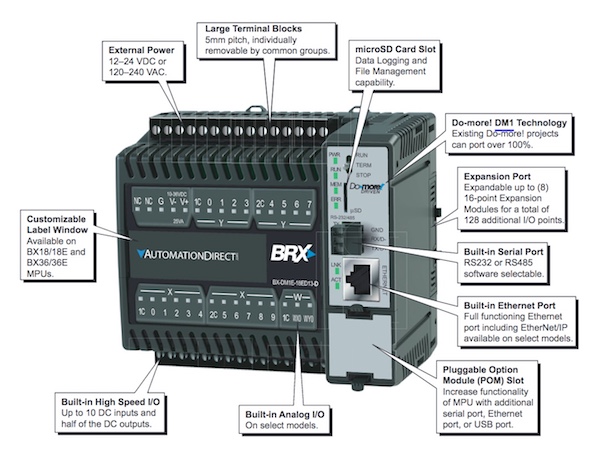 What would you expect to pay for a PLC with built-in data logging, integrated motion control, customisable communications ports, and expansion capabilities? If you said a few thousand, then you are definitely in the right place. If you said a few hundred, then you've been here before! The BRX PLC platform, with the proven Do-more! DM1 technology, raises the bar on getting the most out of your PLC dollar. Whether you need a little (a simple communications controller with no on-board I/O) or a lot (36 built-in I/O points with motion, analog and expansion), the BRX family of PLCs will deliver outstanding features and ease-of-use at an unbelievable price.

Don't forget with BRX PLCs you also get FREE software, FREE award-winning tech support and FREE PLC training. You wont find this much value anywhere else!

Data logging
Motion capability
FREE Programming software with simulator
Hot swappable comm ports
Built-in high-speed I/O
Plus much more


2. FREE Industry-proven Software
The FREE Do-more Designer programming software is designed to be powerful, flexible and easy to use. The user-friendly, fill-in-the-blank design makes complex operations like PID and motion control a cinch. It's available to download online whenever you choose, however many times you'd like. Take it for a spin or start your project immediately, there are never any licensing fees or service charges.


3. Customised Communication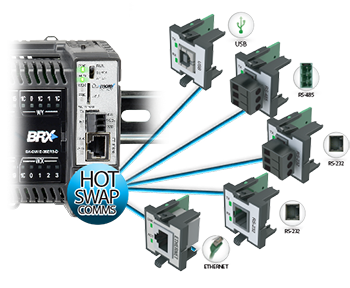 With the BRX PLC platform you can choose which communications ports you need. All BRX PLC base units come with a built-in RS232C/485 software-selectable serial port, with an optional RJ45, 10/100Mbps Ethernet port on select units.


In addition, all BRX base units have a slot in the CPU that allows for an additional user-selected communications port. These user-selected ports are called Pluggable Option Modules (POMs) and come in 3-pin serial RS232, RJ12 serial RS232, 3-pin serial RS485, USB and Ethernet versions. Simply choose the port you want, install it and go!

With support for EtherNet/IP, Modbus TCP, Modbus RTU, ASCII, K-sequence (DirectLOGIC users) and custom protocols, the BRX PLC family provides supreme communications versatility for any application.

4. Integrated Motion on Multiple Levels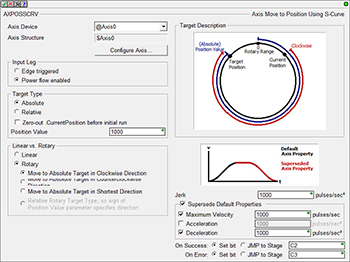 Motion with BRX PLCs can be as easy or sophisticated as you need. Three levels of instruction complexity allow you to choose the degree of customisation involved with your motion control application. Choose the zero complexity option with minimal user input, the intermediate level for more user-defined features, or the advanced level to create custom move profiles. And with the built-in high-speed I/O, the BRX platform takes practical motion to a whole new level.

5. Built-in Data Handling and Storage
Data collection is becoming one of the most important functions of a control system and with the BRX PLC family, data logging is included free of charge. The BRX CPUs come standard with 1MB of internal RAM for data logging plus up to 32GB of data storage on an optional, removable microSD card. The BRX platform also integrates many data-centric instructions for custom data logging and file handling operations.

1MB of data storage included FREE with every BRX PLC plus up to 32GB of extra storage with optional microSD!
6. Flexible hardware to meet your needs

The BRX PLC family uses the popular Do-more! DM1 technology and is an extremely versatile compact stackable system that you can customise to your specific controller needs. With four different form factors, built-in high-speed inputs, interchangeable communications port, on-board analog I/O, and many discrete I/O expansion modules available, you can build the ideal controller for your application.

7. Timesaving PLC Simulator included for FREE
There is no better time-saver than the FREE PLC simulator in the Do-more Designer software. Use it to test your system code without the hardware present, verify the effects of code changes before implementation, replicate fault conditions to test code stability, or try out new programming techniques/methods for greater efficiency.

8. Easy software interface helps get it done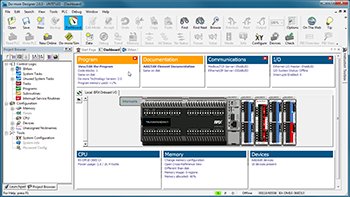 The Do-more Designer software has numerous capabilities and features that you'll love. What we love is customer feedback! So based on years of customer input, we've improved the software's navigation with a user-friendly dashboard. This dashboard gets you where you need to be in an instant. With readily available project status and quick links to common areas/functions, you'll wonder how you ever lived without it.

9. Trouble-free troubleshooting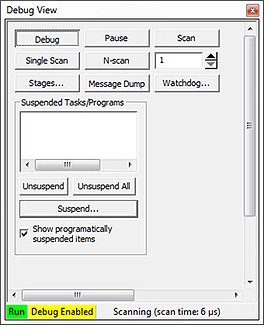 When problems arise, fix them fast with the easy-to-use troubleshooting tools designed into the Do-more Designer software. See real-time trending data with the Trend View or execute the program one step at a time with the Debug View. These and other integrated software tools help save you troubleshooting time and alleviate frustration.

10. The BRX PLC hardware is built to last
The BRX PLC hardware is built to last and is engineered & manufactured in the US by industrial automation veterans. The BRX PLC platform delivers the quality you expect but at a price you won't.